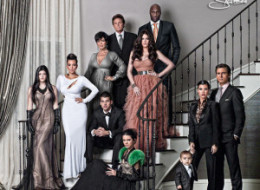 Throwing a party? Kim Kardashian would love to attend -- if you've got a couple hundred thousand dollars to spare.
The ubiquitous Kardashian family (Kris, Kourtney, Kim, Khloe, Robert, Kendall, Kylie and Olympian Bruce Jenner) has taken reality fame to a new level, translating one television show into a veritable branding empire.
The Hollywood Reporter
, which works to unlock the secrets of the clan in their issue, reports that, in all, the family took in a whopping $65 million in 2010.
But for what?
Their faces -- and names -- are everywhere, but many don't quite know what the Kardashians do, exactly. That's easy: they just live their lives. It's just that they let everyone else watch in. And then buy.
After their first show, "Keeping Up With The Kardashians," debuted on E! in 2007, the family's fame soon exploded. Up to that point, the name Kardashian was best associated with OJ Simpson's defense team (Robert Kardashian, matriarch Kris' latehusband, defended the ex-football star in his murder trial, much to her dismay) and a sex tape (middle sister Kim's self-made sex video with Brandy's brother Ray J nearly exploded the internet in 2004). Now, the name is on everything. Almost literally.
Their television empire has expanded to three -- and soon four -- TV shows, with "Kourtney and Kim Take New York" currently running and Khloe's show with husband, NBA star Lamar Odom, set to premiere soon. They have a best selling book, perfumes, a clothing line for Sears and a bevy of other products (listed, in part, below). And it's all thanks to "momager" Kris, who has worked to expose her six children -- and sell them -- to a staggering degree.
"I have a blog that has 40 million hits a month," Kim told the magazine (the sisters have built up their blogs and brand through Twitter, where
Kim has over six million followers
). "People leave comments: What shoes do you wear, and what lip gloss do you use? My mom told us, 'So why not be a brand for our fans and give them what they want?' Many of our ideas [about what to endorse] come from our fans and then our mother makes it happen."