'Wimpy Kid' Tops Box Office With $24.4M
A wimpy kid has delivered a knock-out punch to a band of warrior vixens at the weekend box office.
The 20th Century Fox family sequel "Diary of a Wimpy Kid: Rodrick Rules" debuted as the No. 1 movie with $24.4 million, according to studio estimates Sunday. The girl-power action fantasy "Sucker Punch," released by Warner Bros., opened at No. 2 with $19 million.
The previous weekend's top movie, Relativity Media's sci-fi thriller "Limitless," slipped to third with $15.2 million, raising its total to $41.3 million.
"Rodrick Rules" did a bit more business than its predecessor, "Diary of a Wimpy Kid," which opened a year ago with $22.1 million. The "Wimpy Kid" movies are based on the children's books by Jeff Kinney about a timid youth trying to cope at school and home.
The sequel casts wimpy kid Greg (Zachary Gordon) into sibling rivalry and bonding with one of his chief tormentors, older brother Rodrick (Devon Bostick).
Though its main characters are boys, the movie drew family crowds of both sexes, said Fox distribution executive Bert Livingston. The appeal of the story is in the title, he said.
"`Wimpy,' because every kid knows that feeling. That's why `Spider-Man' works. Everybody thinks that they could be the outsider who could be Spider-Man," Livingston said. "I think anyone can associate with that, and I think that's why we got fathers, mothers and young people, male and female."
"Sucker Punch," from director Zack Snyder ("300," "Watchmen"), follows the adventures of a group of young women (Emily Browning, Abbie Cornish and Vanessa Hudgens among them) who escape a mental hospital into a fantasy realm of dragon slaying, samurai combat and battles with zombie soldiers.
While the "Wimpy Kid" sequel and "Sucker Punch" combined to deliver more than $40 million in revenue, Hollywood's long box-office dry spell continued.
Overall business totaled $120 million, down 7 percent from the same weekend last year, when "How to Train Your Dragon" debuted at No. 1 with $43.7 million, according to box-office tracker Hollywood.com.
Domestic revenues this year are dragging at $2.2 billion, a 19 percent drop from 2010, whose first quarter was unusually strong because of big business from 2009 holdover "Avatar" and a few other hits.
Business was so-so for the rest of 2010, with movie-ticket sales sagging during the summer and holidays, the two periods that account for about 60 percent of Hollywood's annual theatrical revenue.
Hollywood.com analyst Paul Dergarabedian said he expects the opposite to occur this year. He predicts Hollywood will have a strong summer that will offset this year's weak start, with studios potentially rebounding to haul in record revenue for the year.
"This is a big downturn, but I think summer is on the way to save the day with some really big titles," Dergarabedian said. "I'll take a strong summer and fall and holiday over a strong first quarter any day."
Estimated ticket sales for Friday through Sunday at U.S. and Canadian theaters, according to Hollywood.com. Final figures will be released Monday.
1. "Diary of a Wimpy Kid: Rodrick Rules," $24.4 million.
2. "Sucker Punch," $19 million.
3. "Limitless," $15.2 million.
4. "The Lincoln Lawyer," $11 million.
5. "Rango," $9.8 million.
6. "Battle: Los Angeles," $7.6 million.
7. "Paul," $7.5 million.
8. "Red Riding Hood," $4.3 million.
9. "The Adjustment Bureau," $4.2 million.
10. "Mars Needs Moms!", $2.2 million.
_________________________________________________
Michael Bay On 'Transformers 2': 'That Was Crap

'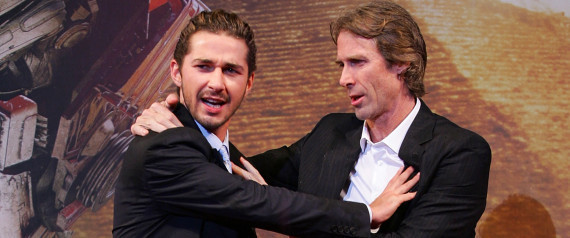 Michael Bay has heard the criticism of his film "Transformers 2". And now, he admits to agreeing with it. Not that he's taking all the blame.
The director spoke with British film journal Empire Magazine about his explosion-heavy film series, which will debut its third movie this summer. The second film was critically panned, criticism Bay understands, and can explain.
"We made some mistakes," Bay told the magazine. "The real fault with ["Transformers 2"] is that it ran into a mystical world. When I look back at it, that was crap. The writers' strike was coming hard and fast. It was just terrible to do a movie where you've got to have a story in three weeks."
So he admits it was the writing. And he explains just how hamstrung he was.
"I was prepping a movie for months where I only had 14 pages of some idea of what the movie was," Bay goes on. "It's a BS way to make a movie, do you know what I'm saying?"
Most people may say yes. But the movie was still a hit at the box office -- as he said, critics have lost sight of a movie's main purpose: to entertain. And he's got a lot in store for "Transformers 3" -- and star Shia LeBeouf, never one to mince words,
says this one "won't be so bad,"
which was his own way of saying the second movie failed. Which he then explicitly said.
"We got lost. We tried to get bigger. It's what happens to sequels. It's like, how do you top the first one? You've got to go bigger," LaBeouf said. "Mike went so big that it became too big, and I think you lost the anchor of the movie. ... You lost a bit of the relationships. Unless you have those relationships, then the movie doesn't matter. Then it's just a bunch of robots fighting each other."
____________________________________________________________
A new Lara Croft and 'Tomb Raider' reboot in the works -- farewell, Angelina Jolie
Producer Graham King (
The Departed, The Town
) announced today that his company GK Films has acquired the film rights to the videogame heroine Lara Croft, and plans to reboot the
Tomb Raider
franchise. Angelina Jolie played the buxom, gunslinging treasure-hunter in two movies, 2001′s
Lara Croft: Tomb Raider
and the more cumbersomely named
Lara Craft: Tomb Raider — The Cradle of Life
in 2003. Since then, the character has lived on only in videogame form, but King intends to bring her back to theaters at some point in 2013.
The character was created in 1996 by London-based game developer Eidos, and has since been purchased by game publisher Square Enix.
King did not make himself available for interviews, but describe the new plan in a press release as a "reboot." He knows Jolie well, having recently worked with her on
The Tourist
, but she hasn't expressed much interest in returning to the character. A true reboot would require a new star anyway. So with a big red slash through Jolie's future as the character, the casting is wide open.
_____________________________________________________________________________
I AM NUMBER FOUR
Starring:

Alex Pettyfer, Dianna Agron, Timothy Olyphant

Summary:

Three are dead. Who is Number Four? Extraordinary teen, John Smith is a fugitive on the run from ruthless enemies sent to destroy him. Changing his identity, moving from town to town with his guardian Henri, John is always the new kid with no ties to his past. In the small Ohio town he now c

alls home, John encounters unexpected, life-changing events—his first love, powerful new abilities and a connection to the others who share his incredible destiny. (DreamWorks Pictures)

This movie will probably be hated by adult reviewers, but will connect with teen moviegoers. There are entertaining moments along the way, and some likeable characters. This might keep the Twilight Fanatics occupied until November when the next Twilight Saga is due out.

Young English actor Alex Pettyfer, the hunk of the moment for teen girls, stars as the misunderstood alien (chalk one up for savvy casting). Pettyfer has two more youth-targeted movies on tap this year, Beastly and Now, but in this performance he fails to justify the female shrieks he elicits. Yes, his body is well chiseled, but his acting — moodiness relieved only by flashes of anger — leaves a hole in the movie. The rest of the cast is more eye-catching in the drama department, especially Glee's Dianna Agron as a teen absorbed in photography, Callan McAuliffe as a geeky guy into UFO lore, and fellow Australian Teresa Palmer, who adds plenty of sex appeal and athleticism to the role of another, much more self-confident alien. If your between the Ages of 15-25 It's a must see. If your older, and a TRUE Sci-Fi Buff then you might be let down.
I Give the Movie a B-